A LITTLE NIGHT MUSIC
SONDHEIM/WHEELER
BERKSHIRE THEATER FESTIVAL 2014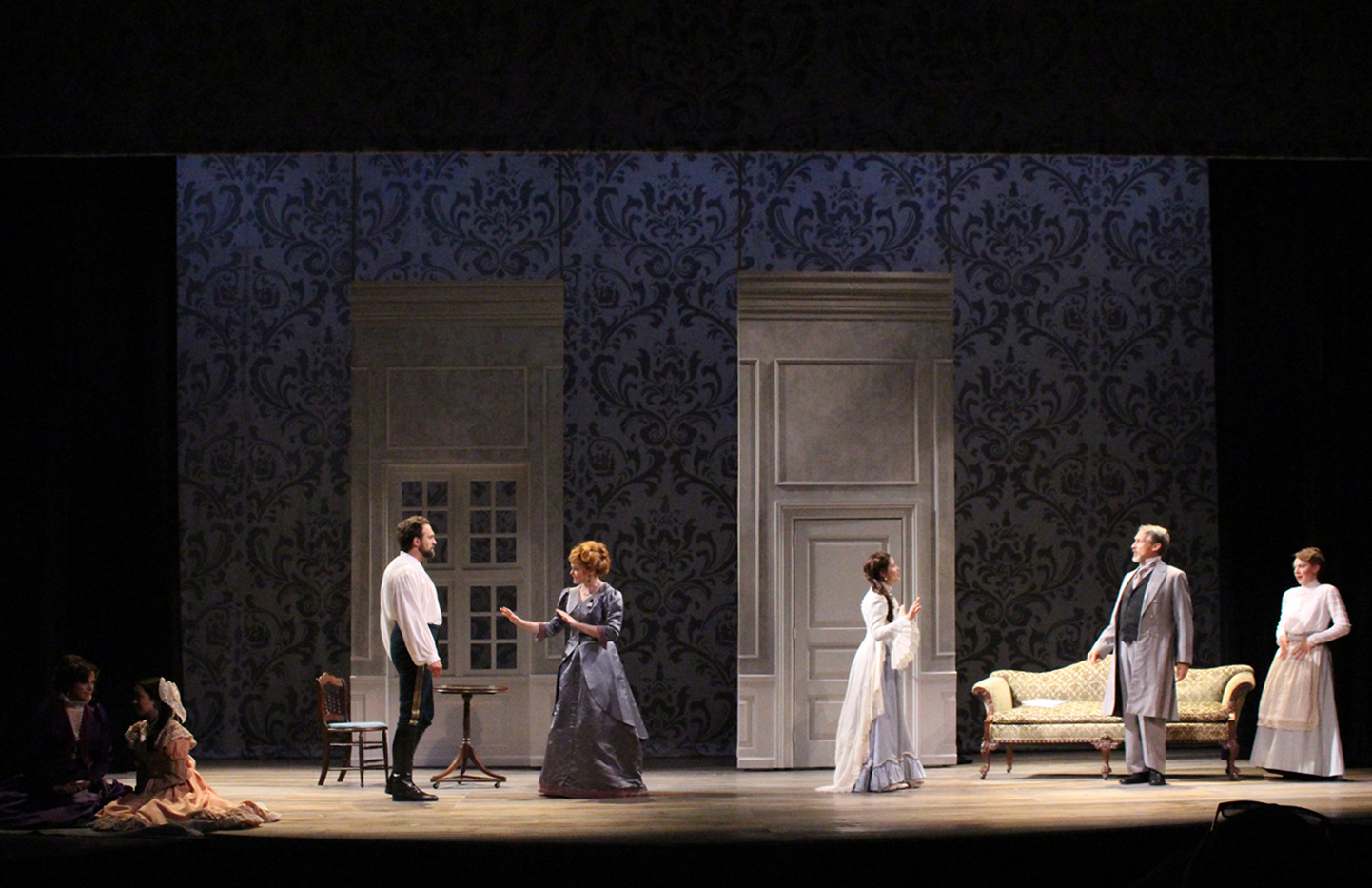 For this production, Director Ethan Heard and the design team wanted to evoke the dreamlike, selective- memory feeling to the musical. We wanted to emphasize the journey from innocence to experience through the three Armfeldt women. We also wanted to highlight the beautiful classical proscenium house of the Colonial Theater, with its glorious red curtain. The Liebeslieder quintet, Sondheim and Wheeler's Greek chorus, became mischevious, sexy sprites, emerging from the pit, the boxes and the rear of the house to shepherd us through the journey of the musical. I was inspired by the paintings of Vilhelm Hammershoi and the spareness of classical Swedish interiors, with the whitewashed woodwork, subtle damask patterns and pickled wood floors. Translucency and silhouette became important ideas in both set and costumes to emphasize a dream-like memory.
The overall journey of the musical had a "Midsummer Night's Dream" structure to it; starting in the more cool and repressed city, with its Victorian ideas about love and sex, and becoming freer and looser as we move to the country, and eventually to the deep woods. The first act used a handful of elements - two translucent voile curtains, a scrim panel with a door and one with a window, along with furniture - in front of a oversized damask wallpaper drop and low border to suggest all the locations in the act. During the finale of "Weekend in the Country" at the end of act I we flew out the wallpaper drop to reveal the Act II set, with its much grander height, for the last 15 seconds before the curtain descended. It was satisfying!
Act II consisted of moving tree-silhouette panels, a grassy rise at the rear of the stage, foliage borders, and a perspective Armfeldt Mansion. The tree panels criss-crossed the stage to make different locations in Act II, and the foliage borders descended as we went deeper into the woods. For the two scenes "inside" the mansion and for the end of the play, deep in the woods, we flew the mansion out. Watching the mansion slowly ascend and descend was one of my favorite surprises in the show, it was mesmerizing and dream-like.
Directed by Ethan Heard
Set Design: Reid Thompson
Costume Design: David Murin
Lighting Design: Oliver Wason
Sound Design: Brendan Doyle
Wig, Hair and Makeup Design: Jon Carter
Photographs: Reid Thompson